Our Catholic school is part of the Catholic Church. We work in partnership with our local parish and priests in order to enrich the spiritual life of the students, staff and families of our school, especially through the celebration of the Sacraments.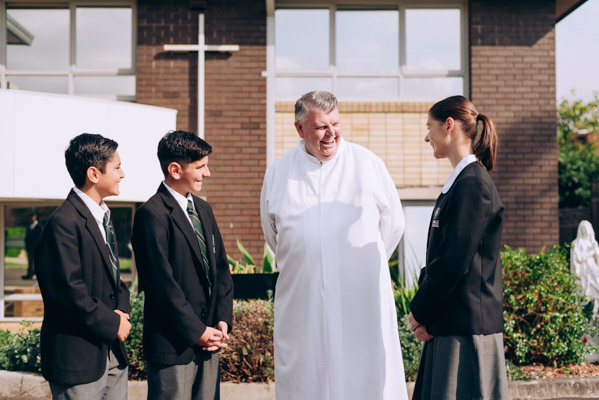 A LaSalle education is a journey that draws its inspiration from the spirituality and educational principles of our founder, St John Baptist de la Salle. It is one of the many schools throughout the world under the care of the Religious Institute known as the Brothers of the Christian Schools or de La Salle Brothers.
A Lasallian education seeks to recapture, in contemporary ways, the original spirit of St John Baptist de la Salle's first schools in Reims, France. Hence, LaSalle Catholic College endeavours to touch hearts by developing the dignity and well-being of each of our students, teach minds through the educational programs it offers and transform lives.
Our students are accompanied on their journey by competent professional educators, who offer a myriad of academic, spiritual, social, cultural and sporting opportunities to enable our students to develop their gifts and talents, achieve personal excellence and prepare for the future with hope and confidence.
A LaSalle education provides our students with knowledge, skills and attitudes to become fine young adults who can be the change they want to see in the world.
Since 1680 educational institutions in more than 80 countries have been influenced by the vision and innovative spirit of Saint John Baptist de La Salle, the Founder of the Institute of the Brothers of the Christian Schools and the patron saint of teachers. De La Salle transformed education by forming a community of educators with whom he developed a spirituality of teaching and learning, to give a human and Christian education to young people, especially the poor.
Lasallian Education centers on Catholic values and personal relationships, emphasizing academic excellence, faith formation, inclusion, respect for the individual, service and social justice. A Lasallian Education strives to enrich each student's cultural, intellectual, physical, social and spiritual development.
Today, the De La Salle Christian Brothers and their Lasallian Partners continue to respond to students through advancements in teaching, technology and scholarship. In Lasallian communities, educators touch hearts, stimulate minds and cultivate leadership to prepare students for life, work, and service to society and the Church.