We commit to providing safe and supportive environments which nurture the wellbeing of all students and staff in our community, and hold firmly to the belief that they have a right to be safe, respected and valued in an inclusive environment. We know that when students are happy, they are more engaged with their learning.
Schools benefit from wellbeing initiatives and pastoral care support through Sydney Catholic Schools – in areas such as anti-bullying, positive behaviour, student counselling, refugee support and child protection – which range from universal support for all students, to targeted interventions for students with complex social and emotional needs.
The LaSalle tradition offers students hope. We provide our students with opportunities to grow and mature and face the challenges of life with confidence, resilience and courage. St John Baptist de la Salle encouraged teachers to "express love in kindness, gentleness, sensitivity, and tenderness in order to win the hearts [of the students]". Without this kind of relationship, there can be no significant learning.
"Connectedness" is an essential component of positive well-being. These connections may be formal or informal, aiming to know each student as an individual person, treating each differently according to personal need, and forming a friendly relationship with each. Our House System and Homeroom structure provide the basis for a strong sense of belonging. Our student management framework, the 'Levels System' acknowledges positive conduct and encourages students to take responsibility for their behaviour.
Various programs assist in the development of skills and specialist restorative programs enable us to support students in times of difficulty. LaSalle Catholic College actively seeks to prevent bullying and promotes positive student relationships built upon mutual respect and an appreciation of diversity.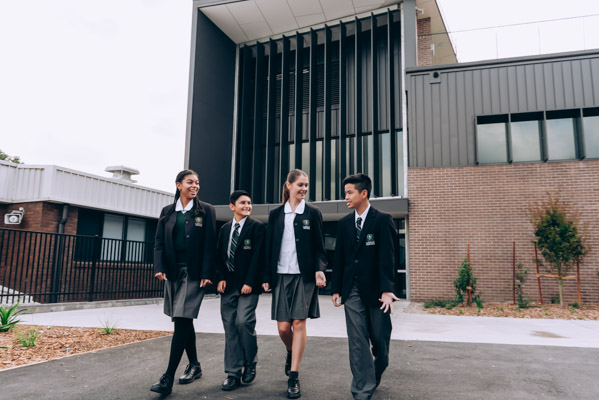 The Level System
Counselling
LaSalle Catholic College employs two counsellors. The counselling service aims to assist in the resolution of concerns, strengthen relationships, provide support for students and encourage responsibility for actions. Students can approach the counsellors directly to make an appointment or they can ask their Homeroom Teacher or Year Coordinator to make an appointment.
Sydney Catholic Schools rejects all forms of bullying behaviours, including online (or cyber) bullying, by maintaining a commitment to providing safe, inclusive and respectful learning communities that promote student wellbeing for learning. Staff at Sydney Catholic Schools are committed to employing wellbeing strategies that allow for a healthy school environment where bullying is less likely to occur.
If your child is experiencing bullying of any kind, or you have a wellbeing concern, we have a number of support services available for parents/carers and students, as listed below.
Support services: